YORK® Sun™ Core Packaged Rooftop Units
YORK® Sun™ Core Packaged Rooftop Units
3-12.5 Tons
YORK® Sun™ Core Rooftop Units are your go-to product to economically meet building codes for first-cost-conscious customers.
A/C and heat pump units in downflow and horizontal airflow configuration
Standard-efficiency models (14.1 SEER/14.8 IEER)
High-efficiency models (17.2 SEER/16.3 IEER)
Back to Top
The Go-to Option for New Construction or Retrofits
YORK® Sun™ Core Rooftop Units save time, money and materials by fitting directly on preexisting, competitive curbs without the need for a transition. With two cabinet sizes that fit perfectly within many existing unit footprints, YORK® Sun™ Core Rooftop HVAC Units simplify the transition process by avoiding material, labor and height restrictions that transition curb solutions typically encounter. Configurations with cooling, gas heating or electric heat provide even more options.
Benefits
MAXIMIZED EFFICIENCY
YORK® Sun™ Core Rooftop Units can significantly cut energy costs compared to older units and feature a scroll compressor for improved efficiency.
CONFIDENCE GUARANTEED
YORK® Sun™ Core Rooftop Units meet or exceed ASHRAE Standard 90.1 and are ENERGY STAR® qualified.
FASTER INSTALLATION
Packaged unit sits directly on select competitive curbs without a transition, saving material and labor costs.
AMERICAN QUALITY
Designed, engineered and assembled in the United States at the Johnson Controls Rooftop Center for Excellence in Norman, OK.
Features
Designed to match up directly with select competitor electrical, control and gas connections
Smart Equipment controls aid in reliability and ease of use
Low-leak economizers meet low leak requirements per ASHRAE 90.1-2010 and are controlled directly from Smart Equipment
Embossed top panels prevent sagging and excess vibration
Accommodates 2" or 4" air filters with easy field conversion from one size to the other
Full line of factory options, such as economizers, power exhaust, smoke detectors, louvered hail guards, convenience outlets and disconnects
Optional field-installed head pressure/low ambient kits, propane conversion and alternate motors and drives
Meet or exceed ASHRAE Standard 90.1 – 2016
Advanced control features, such as auto-configuration, troubleshooting information and supply, return and outdoor air temperature sensors
Exclusive optional Continuous Reset Single Zone (CRSZ) control
Formed, heavy-duty base rails improve rigidity and transportability
Powder-coat paint meets 750-hour salt-spray requirements for a long-lasting paint finish
Full line of field-installed options, such as electric heat, economizers, manual OA dampers, power exhaust and high altitude conversion kits
Hail guards and hinged cabinet panel options available
Verasys Controls
YORK® Sun™ Core Packaged Rooftop Units are Verasys enabled, making it easy to improve comfort, efficiency and operating costs. Verasys offers remote connectivity for secure access anytime, anywhere. BACnet®-based, it connects seamlessly to Smart Equipment throughout your facility via wireless compatibility.
Learn More About Verasys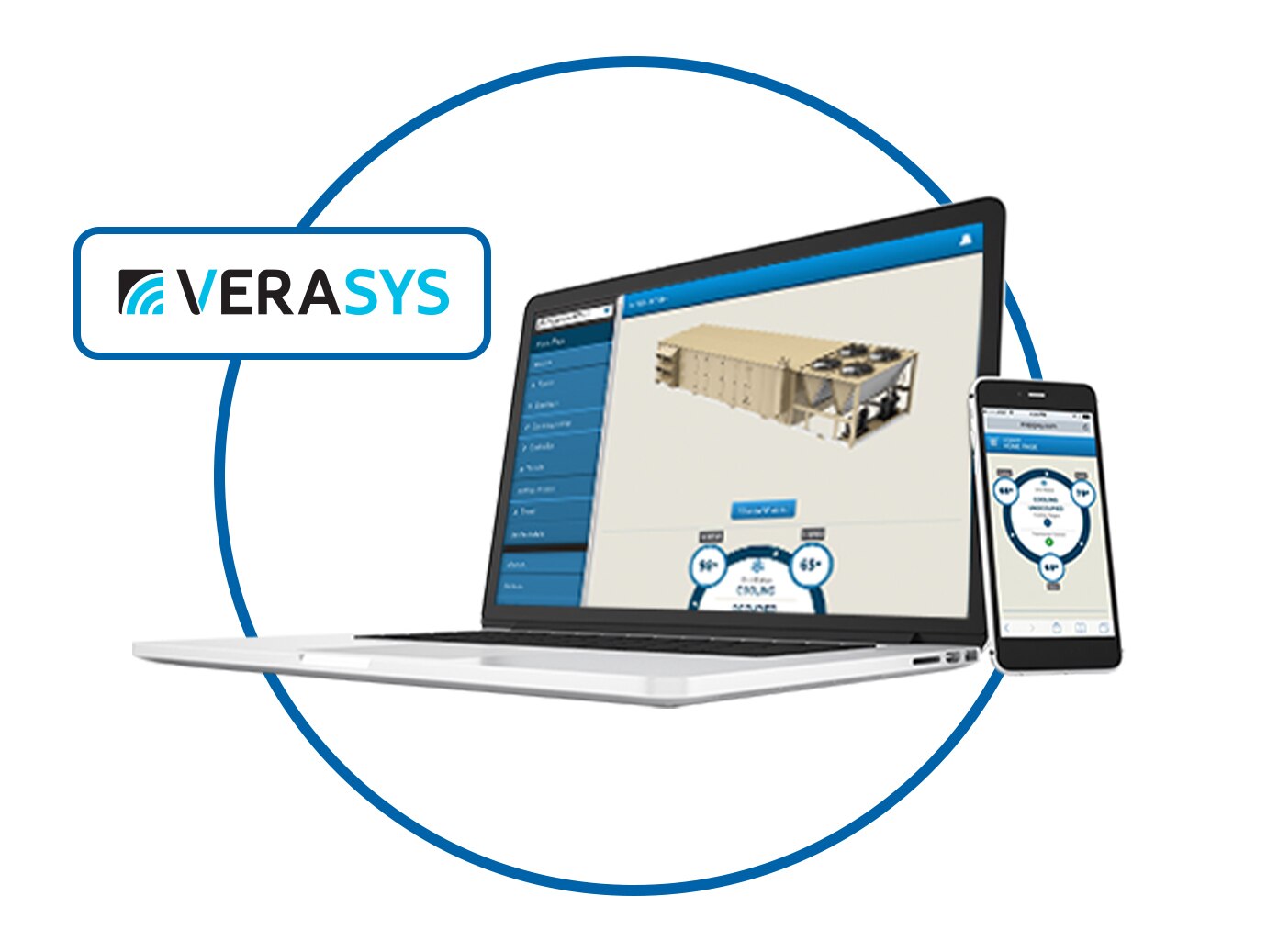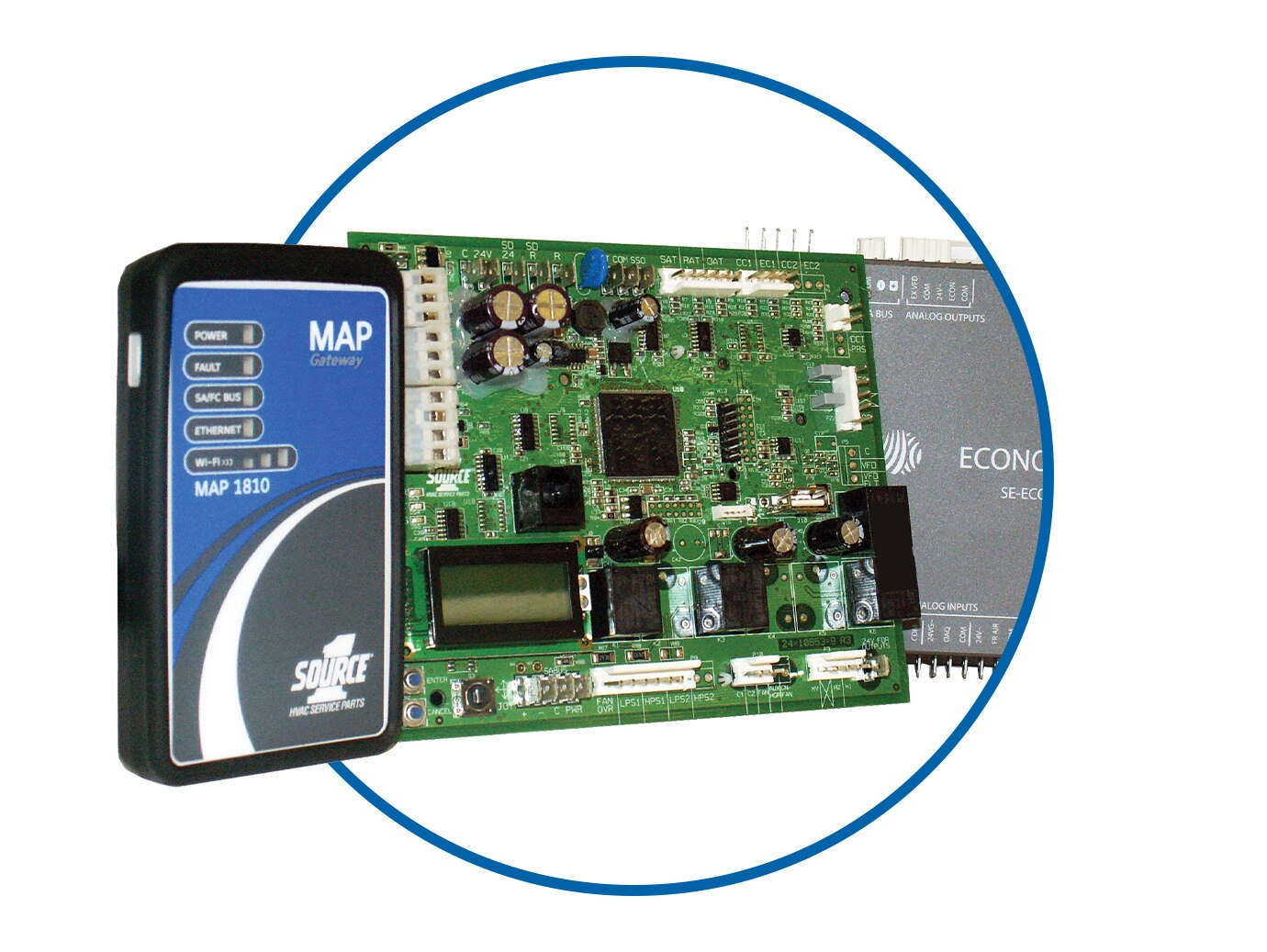 Smart Equipment
Every YORK® Sun™ Core unit comes standard with next-generation Smart Equipment and can connect seamlessly to a controls system and can self-discover other Smart Equipment. On-board controls support cloud-based data analytics including fault detection to support proactive maintenance and minimize downtime.

Smart Equipment helps maximize control for greater efficiency, extended equipment life and reduced operating costs.
Mobile Access Portal (Map)
The optional MAP gateway with Wi-Fi® hotspot provides access to commissioning, configuration and maintenance logs using a smart device for fewer trips to the jobsite or roof to diagnose issues.