YVFA Free Cooling Variable Speed Screw Chiller
YVFA Free Cooling Variable Speed Screw Chiller
150-500 TR (525-1,750 kW)
The YORK® YVFA is a free-cooling screw chiller that minimizes operating cost by combining superior engineering and technology with a packaged design that's simple to own and operate.
YORK® variable-speed drive
Air-to-liquid, free-cooling coils
Intelligent controls optimize energy
Back to Top
Simple to Own and Operate
Advanced technologies, including a variable speed drive compressor, energy optimized hybrid cooling mode and air-to-liquid free cooling coils designed by our heat transfer experts, are intelligently controlled to maximize efficiency year-round.
Benefits
EFFICIENCY
Hybrid mode combines the best technologies to boost part-load efficiency.
SIMPLICITY
Packaged controls and single-point convenience simplify operation.
RELIABILITY
Get assured performance from the variable-speed leaders who have over three generations of expertise.
FAST PAYBACK
Payback possible in as little as two years – and we can prove it.
Features
Packaged controls for single-point convenience to easily accommodate process or building changes
Variable-frequency inverter technology enables a zero-inrush soft start and a high-displacement power factor across the entire operating range
Performance is assured by AHRI certification, the first for an air-cooled screw chiller with free-cooling
Open-loop and closed-loop design solutions for different building systems
Intelligent controls also optimize the balance between using fans to move air over the free-cooling coils
Quick Start option achieves full load after a power loss in four minutes or less
Integrated air-to-liquid, free-cooling coils, designed by our heat transfer experts, reduce or eliminate the need for mechanical cooling when conditions allow
115-500 TR, 400-1750 kW
Quick Start
After power is interrupted, it can take a standard chiller up to 10 minutes to restart. But with the Quick Start feature, YVAA chillers can restart within seconds after power is restored. YVAA chillers feature an industry-leading compressor restart (upon power being restored) of 34 seconds.

Because YVAA chillers contain a variable-speed drive, there is no inrush of current. As a result, all compressors can be started together. This allows a faster ramp-up to full capacity than possible with a typical chiller.
Learn About Quick Start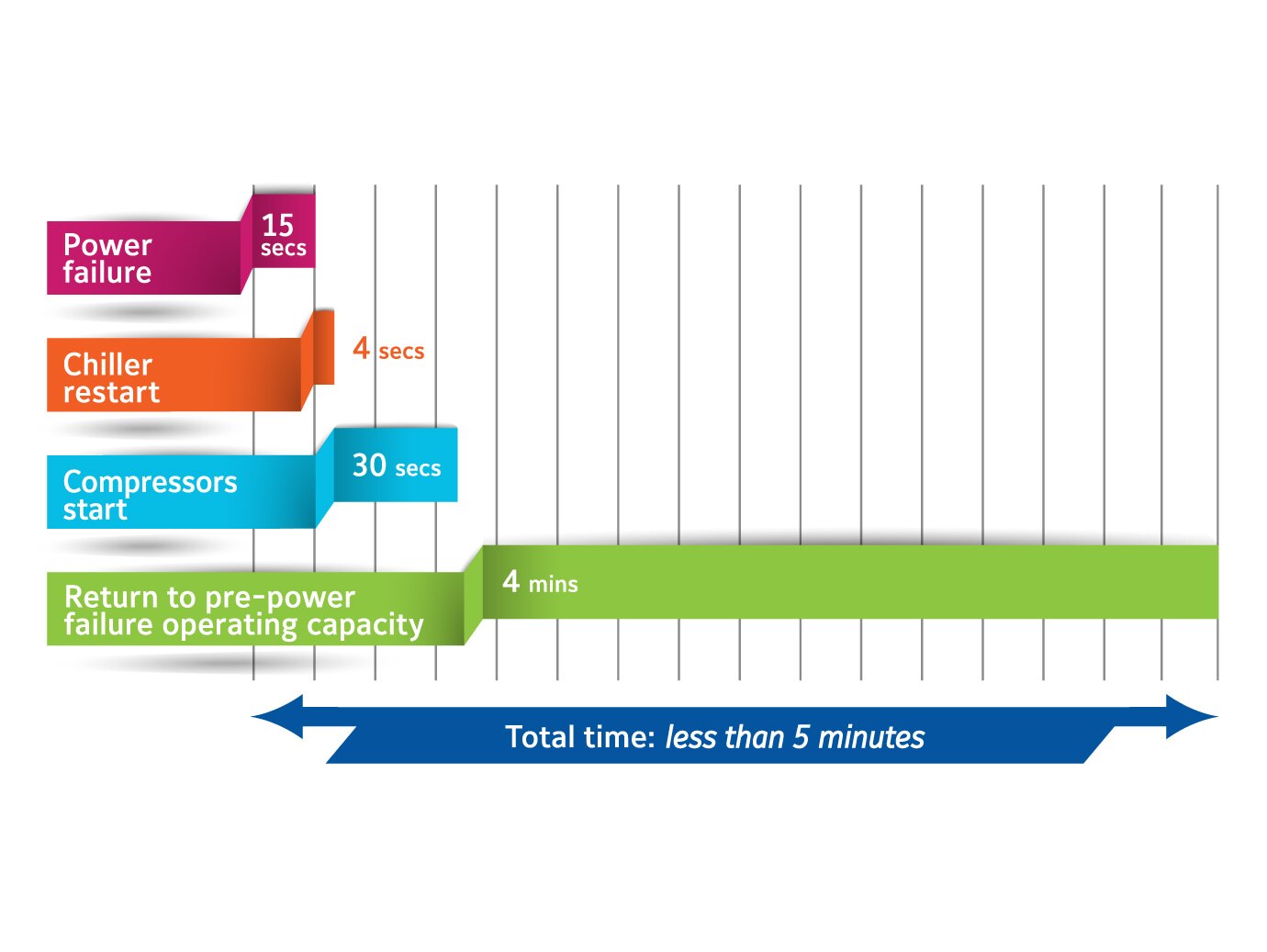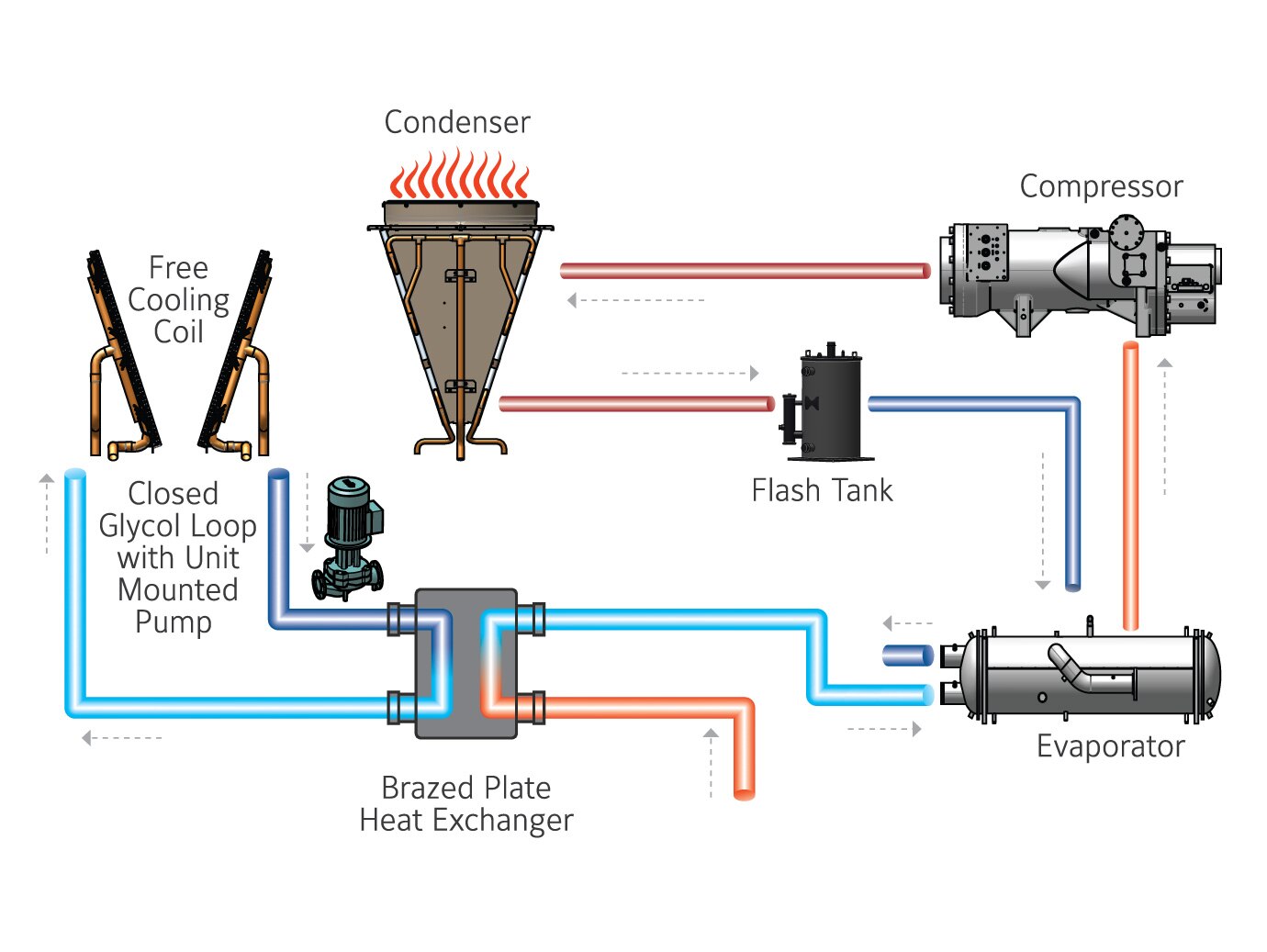 Hybrid Mode Technology
Traditional free-cooling chillers use fixed-speed compressors that simply shut off when ambient temperatures are low enough. But this only saves energy when the compressors are completely shut off. Johnson Controls has pioneered a unique Hybrid Mode technology that optimizes energy use year-round. Using free-cooling coils to reduce the mechanical cooling load at a much higher temperature, the VSD compressors reduce speed and energy use more of the year for long-term performance and efficiency.

Free-cooling Technology
YVFA free-cooling, air-cooled chillers deliver the industry's highest leaving water temperature to provide more tonnage in the same footprint as competing systems. And intelligently controlled free-cooling bypass valves reduce pump energy when free-cooling is not beneficial. These technologies enable the chiller to move from mechanical to hybrid to free-cooling modes automatically, further minimizing energy use.