YVAM Air-cooled Magnetic Bearing​ Centrifugal Chiller​
YVAM Air-cooled Magnetic Bearing Centrifugal Chiller
250 - 475 TR (880 -1670 kW)
The YORK® YVAM is an air-cooled magnetic bearing centrifugal chiller that is specifically designed for hyperscale and colocation data centers applications. ​ ​
Highest Efficiency​
Simplified Design​
Low Harmonics​
Back to Top
Delivers peak efficiency at and beyond typical industry standards​
YORK® magnetic-bearing technology allows YVAM to operate at inverted conditions which means the chiller does not need free cooling coils to deliver performance comparable to air-cooled chillers with integral water-side economizers. This makes YVAM one of the most efficient options for data center applications.​
Benefits
RELIABILITY
YORK® technology featured on the YVAM has been trusted by global customers to serve their mission-critical processes since 1998.​
SIMPLICITY
The YVAM employs an advanced, magnetic drive resulting in frictionless operation and the fewest moving components​
EFFICIENCY
YVAM delivers peak efficiency when operating at inverted conditions which means free cooling coils are not needed to deliver performance comparable to integral water-side economizers​
REDUCED COSTS
The single-stage, magnetic-bearing centrifugal compressor is optimized for off-design operation which reduces total cost of ownership and accelerates payback.​
Features
Packaged controls with full screen graphic display offers convenient system monitoring and trending​
Performance is assured by AHRI certified performance​
Low sound power levels – Typically 96 dBA or less ​
Available with R-134a and R-1234ze
Variable speed drive with active front end offers zero-inrush current and meets IEEE-519 requirements ​
Integral UPS and Quick Start allows YVAM to return to full load in as little as three minutes​
250 – 475 TR (880 – 1670 kW)
Designed for critical applications ​
It is essential to maximize chiller uptime for mission critical, temperature sensitive applications. Data centers and high value connected loads face a 24/7/365 threat of violating service level agreements, equipment failures, and lost production which costs money.
Owners and operators must have confidence in the equipment serving their process.
After power is interrupted, it can take a typical chiller up to 10 minutes to restart. With the Quick Start feature YVAM chillers restart within seconds after power is restored. YVAM chillers feature industry-leading compressor restart times.
Because YVAM chillers use a variable speed drive, there is no inrush current. This means a fast, controlled ramp to full capacity and return to setpoint.
Learn More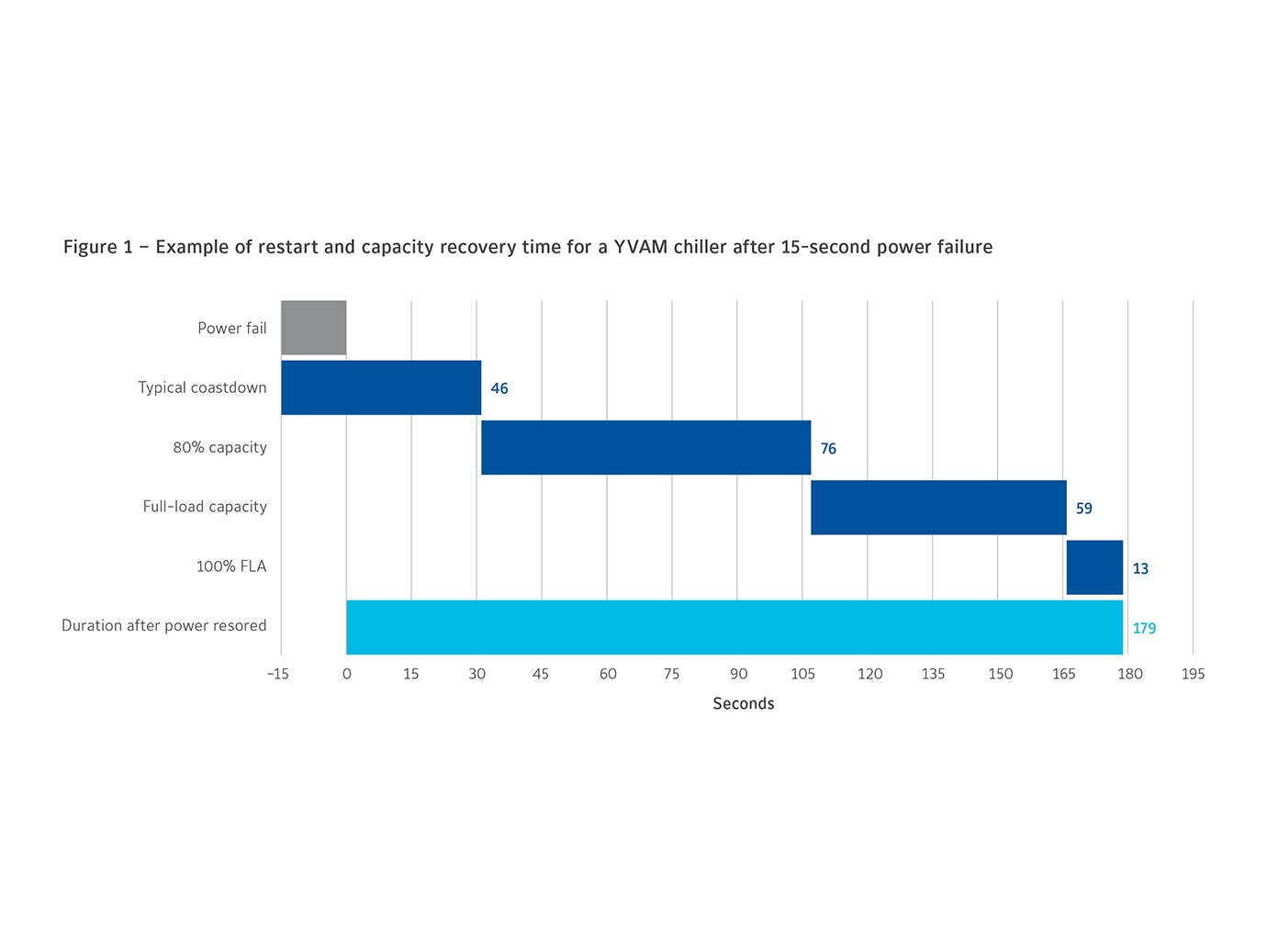 Technical Resources
Document Name
Description
Language
Resource Type
No resource found for selected filter
Related Products
Patented YORK® liquid-cooled, variable-speed drive technology
Screw compressors designed and manufactured by Johnson Controls
Patented, stepped VI (volume ratio) technology to match compressor operation to conditions
Packaged controls for single-point convenience to easily accommodate process or building changes
Intelligent controls also optimize the balance between using fans to move air over the free-cooling coils
Variable-frequency inverter technology enables a zero-inrush soft start and a high-displacement power factor across the entire operating range