YVAA Variable Speed Drive Screw Chiller
YVAA Variable Speed Drive Screw Chiller
150-575 TR (525 - 2,020 kW)
With more than 22,000 units installed and proven globally, the YVAA VSD screw chiller has excelled in a variety of applications.
Optimized design, more flexibility with maximum performance and a smaller footprint
New peak levels of full and part load efficiencies, advanced technologies, MCHX Condenser coils and EC Fans
Modern architecture provides an expanded capacity set to utilize low GWP refrigerants and reduce sound levels
Back to Top
Proven Globally. Tailored for You.
The YORK® YVAA Air-cooled Chiller has been proven globally in some of the world's most challenging conditions. With a patented, liquid-cooled, variable-speed drive that produces 15-25% annual energy savings, IPLV as high as 21.3 EER, and up to 0.25 kW/TR reduction in energy use when replacing existing chillers, YORK® has the experience to tailor and tune the YVAA specifically for you.
Benefits
LOWER ANNUAL ENERGY COSTS
Reduce annual energy costs as much as 50% with a liquid-cooled, variable-speed drive for lowest kW/ton at design and off-design conditions.
TRUSTED RELIABILITY
An efficient motor design provides a wide operating range while refrigerant cooling and thermal protection increase compressor reliability.
GREATER VALUE
The YVAA can be tailored and tuned to match the capacity, efficiency, sound and footprint of specific applications.
OPTIMIZED DESIGN
More flexibility and configuration options for maximum performance with a smaller footprint.
HIGHER EFFICIENCIES
New peak levels of full and part load efficiency for a wide range of applications with use of advanced technologies including next generation MCHX condenser coils and EC Fans
Features
Patented YORK® liquid-cooled, variable-speed drive technology
Patented, stepped VI (volume ratio) technology to match compressor operation to conditions
Class-leading standard operating range of -10°F to 131°F
Performance testing on all units in AHRI-certified lab
150-500 TR, 524-1750 kW
Screw compressors designed and manufactured by Johnson Controls
Reduced energy consumption through reduced refrigerant compression
Patented hybrid falling film evaporator and microchannel condenser coil
Optional Quick Start feature
Tailored Solution for a Variety of Applications
The YVAA air-cooled, variable-speed drive screw chiller from YORK® is designed to improve reliability and performance through proven technology and a customizable, highly optimized design. Installed across the globe, the YVAA offers a tailored solution for a broad range of applications. Patented, variable volume index (VI) technology improves part-load efficiency while a standard operating range of up to 131°F makes the YVAA a great choice in a variety of applications. With optional Quick Start technology, the YVAA air-cooled screw chiller is the more reliable, lower maintenance solution for high-efficiency cooling.
YVAA chillers at Budapest One
Budapest One is a groundbreaking office complex consisting of 66,500 square feet of office park with a unique facade and structural design located at Őrmező, Budapest's "western gate". The area contains Hungary's largest multimodal transport intersection. In collaboration with developer Futureal, we delivered an innovative and efficient HVAC solution to ensure the building is comfortably cooled. With the installation of 10 best-in-class YVAA chillers and the central OpenBlue management system, we continue to optimize energy consumption while reducing costs.
Learn More
Quick Start
After power is interrupted, it can take a standard chiller up to 10 minutes to restart. But with the Quick Start feature, YVAA chillers can restart within seconds after power is restored. YVAA chillers feature an industry-leading compressor restart (upon power being restored) of 34 seconds.

Because YVAA chillers contain a variable-speed drive, there is no inrush of current. As a result, all compressors can be started together. This allows a faster ramp-up to full capacity than possible with a typical chiller.
Learn About Quick Start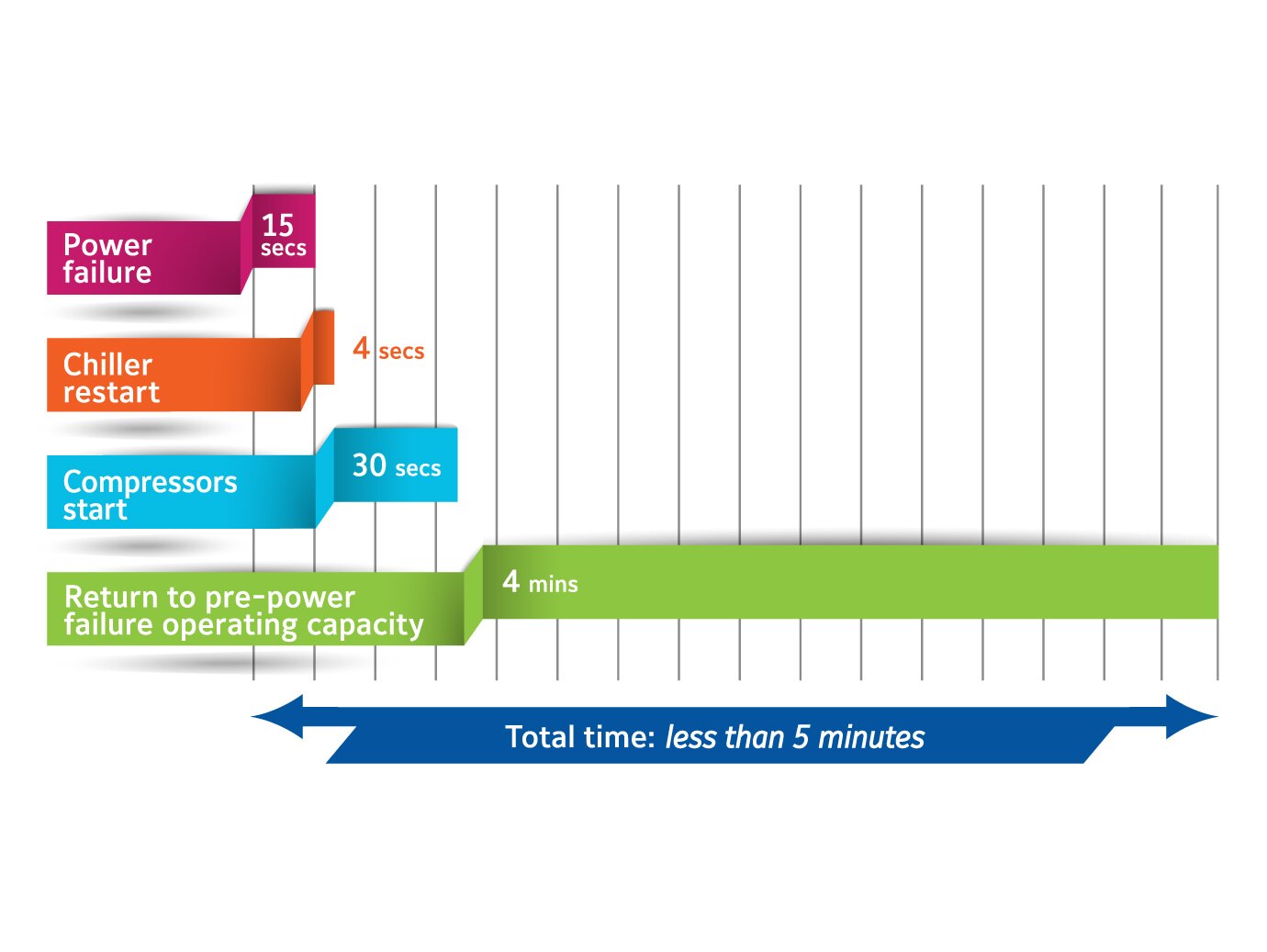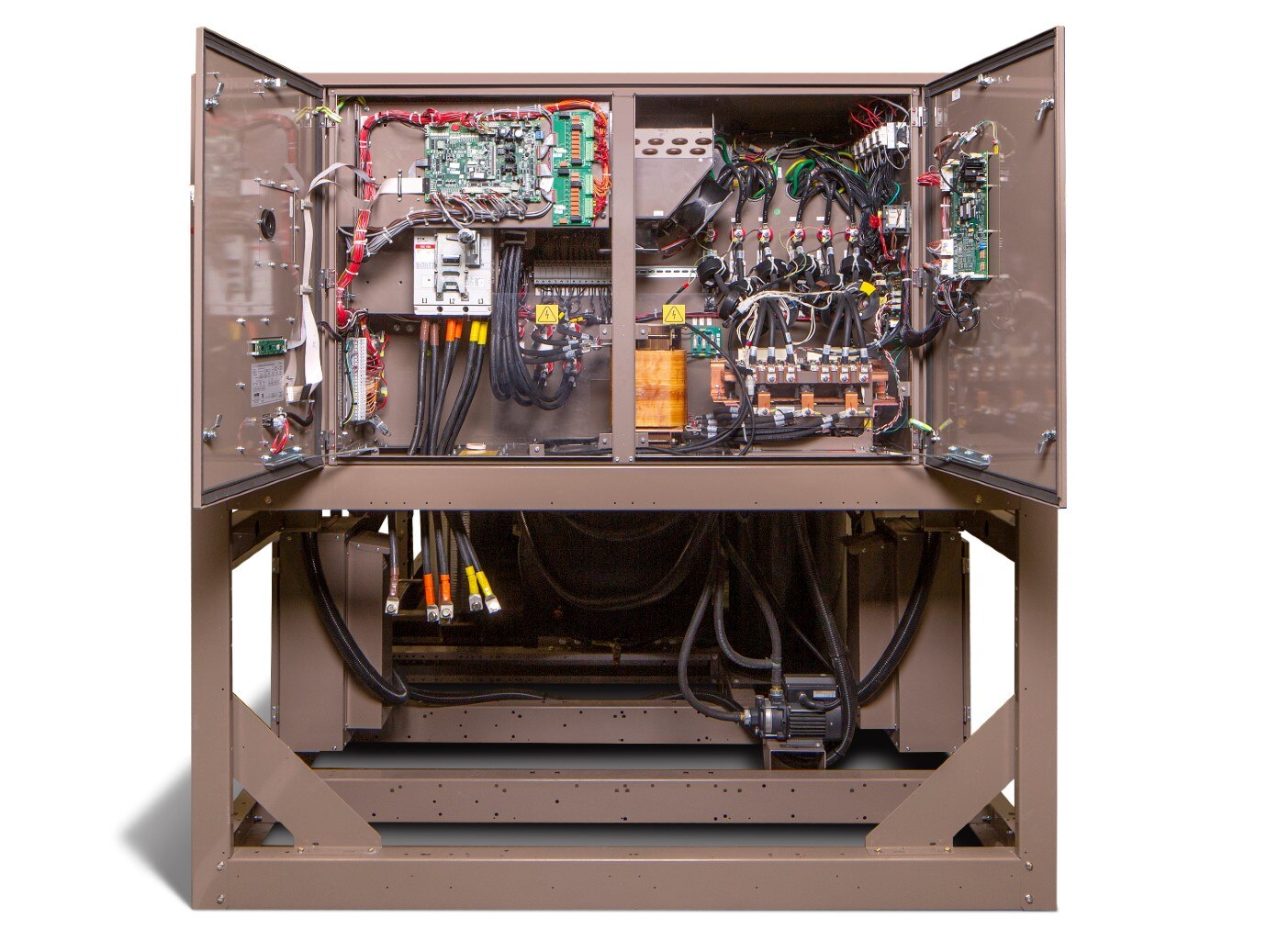 Variable-speed Drive
VSDs help reduce energy consumption – particularly at off-design conditions – and can help lower annual energy costs as much as 50%. Our patented, liquid-cooled VSDs also require less maintenance, with glycol replacement required only every five years. And the variable-speed design dramatically reduces sound levels at off-design conditions – up to 16 dBA. Designed and manufactured by Johnson Controls, a 100% liquid-cooled VSD is standard on the YVAA.

Proven Compressor Technology
The YVAA incorporates advanced, patented variable volume index (VI) technology in a proven design. Our VI design optimizes the compression ratio of the compressor to match the conditions between the evaporator and condenser. This optimized compression ratio prevents over-compression to minimize energy consumption. Every compressor is run-tested at the end of the production line to ensure reliable operation.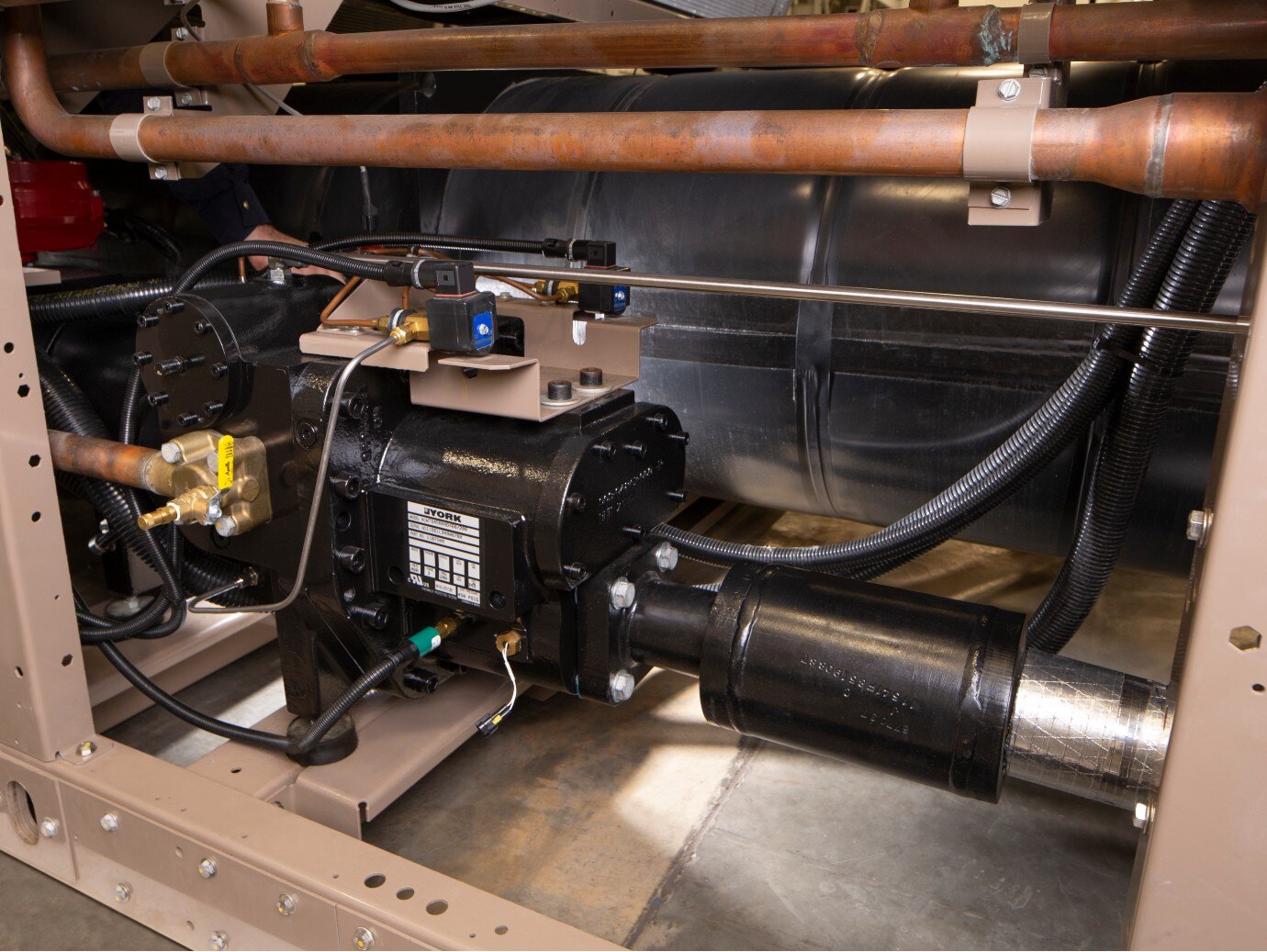 Insights: Chiller Clearances vs Efficiency
Read more